Biblical Geography: Samaria & the Samaritans
by Felix Just, S.J., Ph.D.
---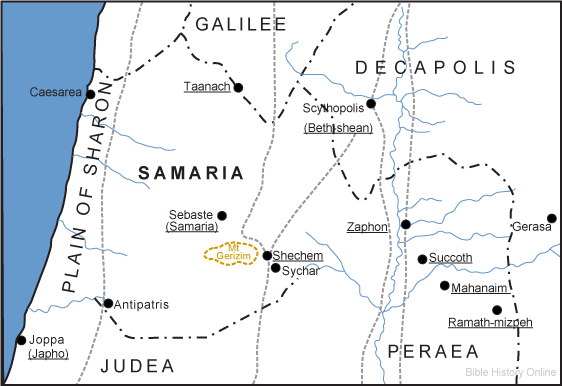 Introduction:
Name:

Hebrew someron; Greek samaria; etymological meaning uncertain
"Samaria" originally referred to a city (1 Kings 16:24), but later also to the whole region surrounding it (cf. 2 Kings 17:24).
The city was renamed Sebaste in the later Roman period; town called Sebastia today.

Location:

The central hill country of Israel/Palestine, North of Judah/Judea and South of the Galilee.
Part of the Palestinian "West Bank" today; centered around the city of Nablus.

Biblical References:

Samaria is mentioned a total of 109 times in the Hebrew Bible (112x in NRSV-OT), esp. in the two books of Kings and in several books of the Prophets (see the bottom of this page for a list of references)
Samaria and Samaritans are mentioned 20 times in the New Testament (see the bottom of this page for a complete list)
Cities, Towns, and Mountains of Samaria:
Samaria - the capital city of the Northern Kingdom of Israel throughout the monarchic period; renamed Sebaste during later Roman rule

In the NT, mentioned only in the stories of Philip preaching in the city (Acts 8:5-13) and Peter & John confronting Simon the magician (Acts 8:14-25)

Shechem - oldest city in this region (ca. 2000 BC); destroyed in AD 67; archaeological site of Tel-Balatah today; about 1 mile E of Nablus

mentioned 68x in the OT (esp. in Genesis, Joshua, and Judges), but only twice in the NT (Acts 7:16)

Sychar - a small city/town near Jacob's Well (near modern Nablus); name is possibly a Greek version of ancient Hebrew Shechem

In the whole Bible, mentioned only in John 4:5 - "So he [Jesus] came to a Samaritan city called Sychar, near the plot of ground that Jacob had given to his son Joseph. 6 Jacob's well was there..."

Mount Gerizim - highest mountain in the region of Samaria

Mentioned four times in the Hebrew Bible:

Deut 11:29 – When the LORD your God has brought you into the land that you are entering to occupy, you shall set the blessing on Mount Gerizim and the curse on Mount Ebal.
Deut 27:12 – When you have crossed over the Jordan, these shall stand on Mount Gerizim for the blessing of the people: Simeon, Levi, Judah, Issachar, Joseph, and Benjamin.
Joshua 8:33 – All Israel, alien as well as citizen, with their elders and officers and their judges, stood on opposite sides of the ark in front of the levitical priests who carried the ark of the covenant of the LORD, half of them in front of Mount Gerizim and half of them in front of Mount Ebal, as Moses the servant of the LORD had commanded at the first, that they should bless the people of Israel.
Judges 9:7 – When it was told to Jotham, he went and stood on the top of Mount Gerizim, and cried aloud and said to them, "Listen to me, you lords of Shechem, so that God may listen to you.

Not mentioned directly in the New Testament, but probably the mountain referred to by the Samaritan woman and Jesus:

John 4:20-21 – "Our ancestors worshiped on this mountain, but you say that the place where people must worship is in Jerusalem." / Jesus said to her, "Woman, believe me, the hour is coming when you will worship the Father neither on this mountain nor in Jerusalem."
All References to "Samaria" in the Old Testament (112 times total in the NRSV):
1Kings 13:32; 16:24 (bis), 28, 29, 32; 18:2; 20:1, 10, 17, 34, 43; 21:1, 18; 22:10, 37 (bis), 38, 51
2Kings 1:2, 3; 2:25; 3:1, 6; 5:3; 6:19, 20 (bis), 24, 25; 7:1, 18; 10:1 (bis), 12, 17 (bis), 35, 36; 13:1, 6, 9, 10, 13; 14:14, 16, 23; 15:8, 13, 14 (bis), 17, 23, 25, 27; 17:1, 5, 6, 24 (bis), 26, 28, 29; 18:9, 10, 34; 21:13; 23:18, 19
2Chronicles 18:2, 9; 22:9; 25:13, 24; 28:8, 9, 15
Ezra 4:10, 17
Nehemiah 4:2
Isaiah 7:9 (bis); 8:4; 9:9; 10:9, 10, 11; 36:19
Jeremiah 23:13; 31:5; 41:5
Ezekiel 16:46, 51, 53, 55; 23:4, 33
Hosea 7:1; 8:5, 6; 10:5, 7; 13:16
Amos 3:9, 12; 4:1; 6:1; 8:14
Obadiah 1:19
Micah 1:1, 5, 6
(Note: bis = twice in one verse)
All References to "Samaria" and "Samaritans" in the New Testament (22 times total; 10x Samaria; 12x Samaritan):
Matthew 10:5 – These twelve Jesus sent out with the following instructions: "Go nowhere among the Gentiles, and enter no town of the Samaritans,
Luke 9:52 – And he sent messengers ahead of him. On their way they entered a village of the Samaritans to make ready for him;
Luke 10:33 – But a Samaritan while traveling came near him; and when he saw him, he was moved with pity.
Luke 17:11 – On the way to Jerusalem Jesus was going through the region between Samaria and Galilee.
Luke 17:16 – He prostrated himself at Jesus' feet and thanked him. And he was a Samaritan.

John 4:4-9 (six times) – But he had to go through Samaria. 5 So he came to a Samaritan city called Sychar, near the plot of ground that Jacob had given to his son Joseph. 6 Jacob's well was there, and Jesus, tired out by his journey, was sitting by the well. It was about noon. 7 A Samaritan woman came to draw water, and Jesus said to her, "Give me a drink." 8 (His disciples had gone to the city to buy food.) 9 – The Samaritan woman said to him, "How is it that you, a Jew, ask a drink of me, a woman of Samaria?" (Jews do not share things in common with Samaritans.)
John 4:39-40 – Many Samaritans from that city believed in him because of the woman's testimony, "He told me everything I have ever done." / So when the Samaritans came to him, they asked him to stay with them; and he stayed there two days.
John 8:48 – The Jews answered him, "Are we not right in saying that you are a Samaritan and have a demon?"

Acts 1:8 – But you will receive power when the Holy Spirit has come upon you; and you will be my witnesses in Jerusalem, in all Judea and Samaria, and to the ends of the earth."
Acts 8:1 – And Saul approved of their killing him. That day a severe persecution began against the church in Jerusalem, and all except the apostles were scattered throughout the countryside of Judea and Samaria.
Acts 8:5 – Philip went down to the city of Samaria and proclaimed the Messiah to them.
Acts 8:9 – Now a certain man named Simon had previously practiced magic in the city and amazed the people of Samaria, saying that he was someone great.
Acts 8:14 – Now when the apostles at Jerusalem heard that Samaria had accepted the word of God, they sent Peter and John to them.
Acts 8:25 – Now after Peter and John had testified and spoken the word of the Lord, they returned to Jerusalem, proclaiming the good news to many villages of the Samaritans.
Acts 9:31 – Meanwhile the church throughout Judea, Galilee, and Samaria had peace and was built up. Living in the fear of the Lord and in the comfort of the Holy Spirit, it increased in numbers.
Acts 15:3 – So they were sent on their way by the church, and as they passed through both Phoenicia and Samaria, they reported the conversion of the Gentiles, and brought great joy to all the believers.
---



Return to the HOME PAGE of Felix Just, S.J.
This page was last updated on August 29, 2014
Copyright © 2014